Splash Guard For Lathe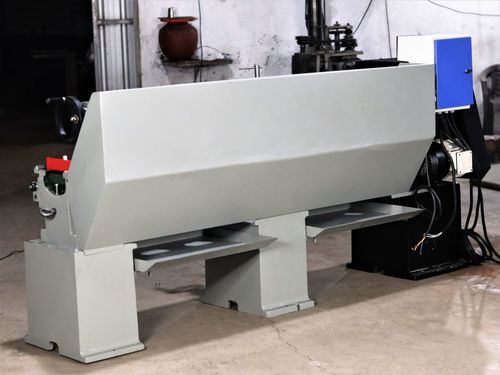 Splash Guard For Lathe
Product Description
As you can see now, the splash guard comes all the way down to the lathe stand. Hopefully this will mean less swarf on the floor.
The only problem is the small step the covers the motor. As you can see from the photo, it tends to kick up a bit, which makes the gap between it and the saddle very small. But I think a bit of pounding with the mallet should straighten that out in a week or so, when the paint sets a bit more.
Then the simple process of welding in the new pieces. That has been done, sort of. It is so warped it is not funny. It still needs to be sanded then painted. If it looks acceptable I may post pictures.
I disassembled the existing splash guard, measured it up and put it into Pro/DESKTOP. Then I set about determining how to extended it to make it seamlessly blend into the exist guard. My plan was to use a few strategic cuts on the existing guard, and then insert some new bits to make it all bigger. This would be a fun opportunity try out my Oxy Acetylene welding skills on sheet metal.
ADVANTAGE:
When machines are installed in the raw. It protects the operator from metal chips and coolant water.
| | | |
| --- | --- | --- |
| Accessory | Suitable Model | Price (Rs.) |
| Splash Guard [16 Kg] | 34-5 | 6500 |
| Splash Guard [17 Kg] | 34-6 | 6700 |
| Splash Guard [17 Kg] | 35-6 | 7500 |
| Splash Guard [23 Kg] | 35-6 | 7700 |
| Splash Guard [24 Kg] | 35-7 | 7900 |
| Splash Guard [23 Kg] | 40-6 | 8500 |
| Splash Guard [26 Kg] | 43-6 | 10500 |
| Splash Guard [29 Kg] | 43-8 | 10900 |