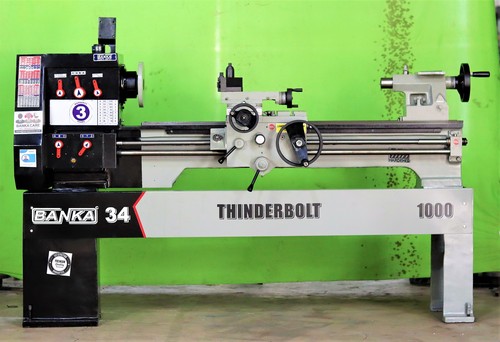 Banka 35 Cyclone Lathe Machine
Product Code : 02
174000 INR
Price And Quantity
Minimum Order Quantity

:

1
Unit of Measure

:

Piece/Pieces
Product Description
Salient Features :-
Head stock

gears hardened and ground.

Gear box

gear hardened and ground.

Bedways hardened and ground up to 400 BHN.

Turitical

B anti- friction material on

carriage ways

.

Control panel & magnetic brake (optional available on request)

Metric

dial on cross

slide ,

Compound and tailstock

semi universal

gear box

provides inch and metric thread without changing too many end trains gears.( universal

gear box

optional available on request )

Infinitely variable spindle speeds 30 1550 RPM in 18 H-L nos. spindle speeds

Alloy steel Spindle molesting on taper roller bearings

American LOO type and A2 type spindle nose available on request.

Specification :-

| Price | Rs. 1,69,000/- | Rs. 1,69,000/- | Rs. 1,79,000/- |
| --- | --- | --- | --- |
A.B.C.
Bed Length
Center Height
Swing Over Bed
Spindle Bore
Spindle Speed
| | | | |
| --- | --- | --- | --- |
| | 48 - 1535 RPM | 48 - 1535 RPM | 48 - 1535 RPM |
Width Of Bed
Swing Over Slide
Cross Slide Travel
Top Slide Travel
Lead Screw
Weight (Kg.)
Quality :-
Even though we are largest all gear lathe manufacturer in India , we have strongly obsess with quality and never compromise with quality. Because no one manufacturer can survive without maintain quality in this neck cot competition
There list of few testing instrument which are using for inspection
S

traight edge meter

Spirit level precision

Hardness tester BHN

Scalorow

TachoMeter RPM MPM

Thermometer temperature

Sound level decibel DB

Screw Thread special tester

Test Mandrel Long bar MT

Dial Indicator Micrometer

Bevel Protractor Vernier caliper

Thread

,

slip ,

plug,Ring,

Gauge

Surface

plate ,

Height

Gauge ,

V block

Lead & profile test-

stellenberg
System Marketing :-
We do not manufacture any parts on our

floor ,

But we are purchasing from market as per our design, pattern and drawing standards

All assembly and subassembly are done on floor only

We

ll experienced and skilled team

to to

inspect machine and assembly.

Machine and assembly inspection reports are precisely followed

We strictly inspect all parts with its material , tolerance and reference as per drawing

For case hardening process in pit type gas carburizing furnace with PID controller , Oxy- probe and recorder for there parts like gears ,Lock nut ,Spindle . The material used generally 20mnCr5 or SAE 8620

For head stock boring WMW Boring machine

WMW planning machine for rough and finishing for the lathe machine bed

METSAN USA make surface grinding machine for grinding lathe bed

HMT type Harden plan for Hardening process
Salient Features :-
Head stock

gears hardened and ground.

Gear box

gear hardened and ground.

Bedways hardened and ground up to 400 BHN.

Turitical

B anti- friction material on

carriage ways

.

Control panel & magnetic brake (optional available on request)

Metric

dial on cross

slide ,

Compound and tailstock

semi universal

gear box

provides inch and metric thread without changing too many end trains gears.( universal

gear box

optional available on request )

Infinitely variable spindle speeds 30 1550 RPM in 18 H-L nos. spindle speeds

Alloy steel Spindle molesting on taper roller bearings

American LOO type and A2 type spindle nose available on request.

Specification :-

| Price | Rs. 1,69,000/- | Rs. 1,69,000/- | Rs. 1,79,000/- |
| --- | --- | --- | --- |
A.B.C.
Bed Length
Center Height
Swing Over Bed
Spindle Bore
Spindle Speed
| | | | |
| --- | --- | --- | --- |
| | 48 - 1535 RPM | 48 - 1535 RPM | 48 - 1535 RPM |
Width Of Bed
Swing Over Slide
Cross Slide Travel
Top Slide Travel
Lead Screw
Weight (Kg.)
Quality :-
Even though we are largest all gear lathe manufacturer in India , we have strongly obsess with quality and never compromise with quality. Because no one manufacturer can survive without maintain quality in this neck cot competition
There list of few testing instrument which are using for inspection
S

traight edge meter

Spirit level precision

Hardness tester BHN

Scalorow

TachoMeter RPM MPM

Thermometer temperature

Sound level decibel DB

Screw Thread special tester

Test Mandrel Long bar MT

Dial Indicator Micrometer

Bevel Protractor Vernier caliper

Thread

,

slip ,

plug,Ring,

Gauge

Surface

plate ,

Height

Gauge ,

V block

Lead & profile test-

stellenberg
System Marketing :-
We do not manufacture any parts on our

floor ,

But we are purchasing from market as per our design, pattern and drawing standards

All assembly and subassembly are done on floor only

We

ll experienced and skilled team

to to

inspect machine and assembly.

Machine and assembly inspection reports are precisely followed

We strictly inspect all parts with its material , tolerance and reference as per drawing

For case hardening process in pit type gas carburizing furnace with PID controller , Oxy- probe and recorder for there parts like gears ,Lock nut ,Spindle . The material used generally 20mnCr5 or SAE 8620

For head stock boring WMW Boring machine

WMW planning machine for rough and finishing for the lathe machine bed

METSAN USA make surface grinding machine for grinding lathe bed

HMT type Harden plan for Hardening process